Perfect Extractor CD RIPPER
Perfect Extractor, AK CD-RIPPER
In this day and age, no one wants to drudge through their CD collection. Isn't it about time you had your entire CD collection at your fingertips?

Inheriting the 'Perfect Extractor' from the acclaimed AK500N, the AK CD-RIPPER easily rips CDs to your Astell&Kern music player with only a single touch of a button.

Easily rip your CD collection using the Astell&Kern music player and AK CD-RIPPER.
Error correction feature straight from the AK500N.
Automatically writes metadata using
the Gracenote music database.
/*21-09-09 수정*/
Connections
You can easily connect the AK CD-RIPPER with Astell&Kern music players using the provided cable.

The AK CD-RIPPER can be connected either directly to an AK380 or via the AK380 Cradle (sold separately).
* Support for the AK240, AK120Ⅱ and AK100Ⅱ is planned through future firmware updates.
* The AK CD-RIPPER may not be properly recognized when using a power supply adapter rated at less than 5V 2A.
Connect with the Astell&Kern

Connect with the AK380 and AK380 Cradle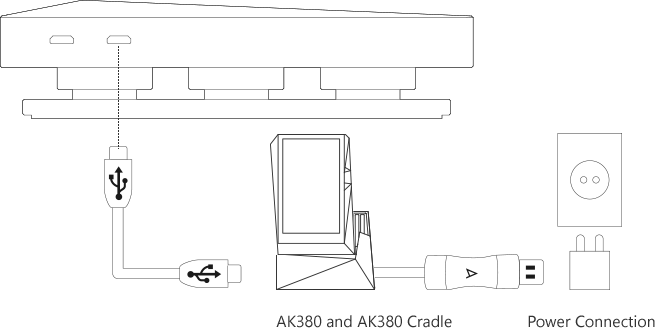 Convenient Ripping
CD ripping is simple and convenient with the AK CD-RIPPER.
By setting up the ripping options in advance, the user can connect the AK CD-RIPPER and simply touch the CD ripping icon to begin.

The connected Astell&Kern music player will access Gracenote's servers featuring the latest music data and automatically write the corresponding music information and album cover to the ripped music files. The user also has the option to manually enter metadata such as album title, artist, genre, and year of release for CD information that is not available on Gracenote.
* You can begin ripping CDs after connecting and then activating the AK CD-RIPPER from the Notification Bar.
Light and Shadow
The AK CD-RIPPER continues with the 'light and shadow' design motif from the AK380, retaining the subtle changes and details in the emitted brilliance as light flows across its surfaces. To reflect the subtle changes in beautiful sound that stimulate the senses, more surfaces were created to accentuate the flowing elegance and slim appearance.

In addition, a damper was implemented into the stand of the AK CD-RIPPER.
The damper minimizes errors that can occur during CD ripping via a spring component by controlling the vibrations that occur as CDs spin.

Exuding an elegant sense of floating in space, the AK CD-RIPPER is the pinnacle of harmony in form and function.
Specification
General Specifications

Model

PEM14 / AK CD-RIPPER

Body Color

Meteoric Titan

Body Material

Aluminum

Dimensions

5.87"(149.1 mm)[W] x 5.92"(150.5 mm)[H] x 1.42"(36.3 mm)[D]

Weight

27.86oz (790g)

CD Ripping Audio Format

WAV, FLAC

Etc.

- Audio was NOT muted during the measurement.
- The image/specification may be changed without notice to improve product performance and quality.

Price