Astell&Kern 2nd Generation Cradle PEM11
Same Aluminum Body as the AK120Ⅱ
Detailed design with a combination of light and shadow when shown at different angles takes on a different shape.
The back design is reminiscent of the bridge of a string instrument. An aluminum connector provides a truly luxurious and perfect connection.
5 step adjustable angle
Feel the edge in every angle step.
May be used with different tilt angles in 5 different positions.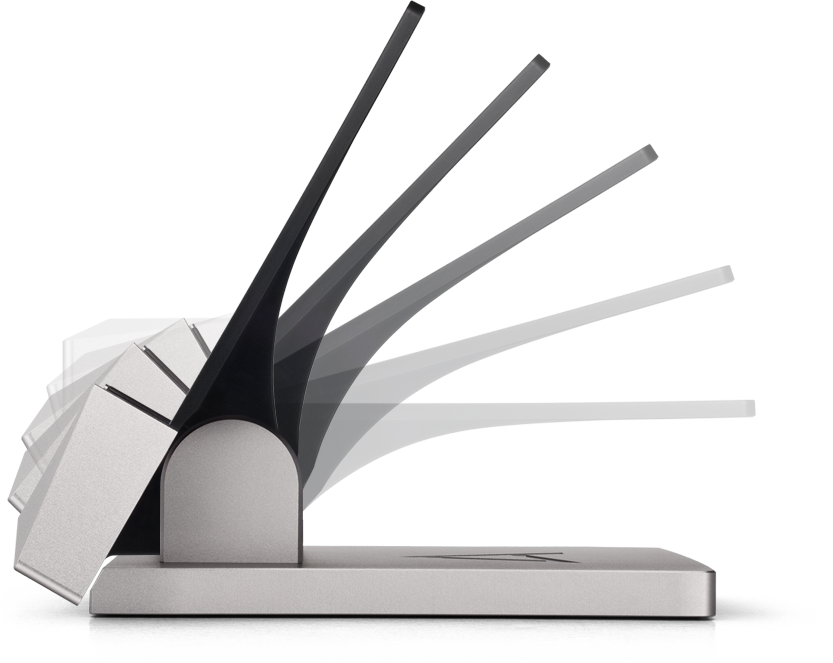 Charging / USB DAC via USB cable
Not only for use as a docking station,
but also for use as a USB DAC and charging station.
Oxygen-free copper cable
The USB cable currently used in existing Astell&Kern cradles has a ground line surrounded by 4 lines data and power lines tied together to avoid extraneous noise. In this case extraneous noise can be blocked, but the internal lines can exchange noise from the inside. The data transfer lines and power transfer lines have been separated to avoid internal noise in the newly produced Astell&Kern USB cable. The 2 data lines are tied up and are shielded with a ground for the data. The 2 power lines are tied up and are shielded all together. Silver-plated OFC cable was adopted and the cable thickness has been changed to meet each line's purpose. More precise use of the Astell&Kern player as a USB DAC is possible with this newly adopted Astell&Kern cable.
Specification
General Specifications

Model

PEM11 / Astell&Kern AK120Ⅱ, AK100Ⅱ Cradle

Dimension

71.45(W) x 124.2(H) x 52.7(D) (mm)

Weight

370g

Step

1 ~ 5 Step

Cable Data

28awg Silver Plated OFC copper

Cable Power

20awg Silver Plated OFC copper

Etc.

- Audio was NOT muted during the measurement.
- The image/specification may be changed without notice to improve product performance and quality.

Price