Step up to a new world, ACRO L1000
The first Desktop Headphone Amplifier from Astell&Kern.
Astell&Kern introduces a new sub-brand of desktop audio products called ACRO. Astell&Kern has taken their expertise in designing best-selling, world-class portable audio devices and put that knowledge in to the first desktop audio product, the ACRO L1000. The ACRO L1000 is the first Desktop Headphone Amplifier from Astell&Kern.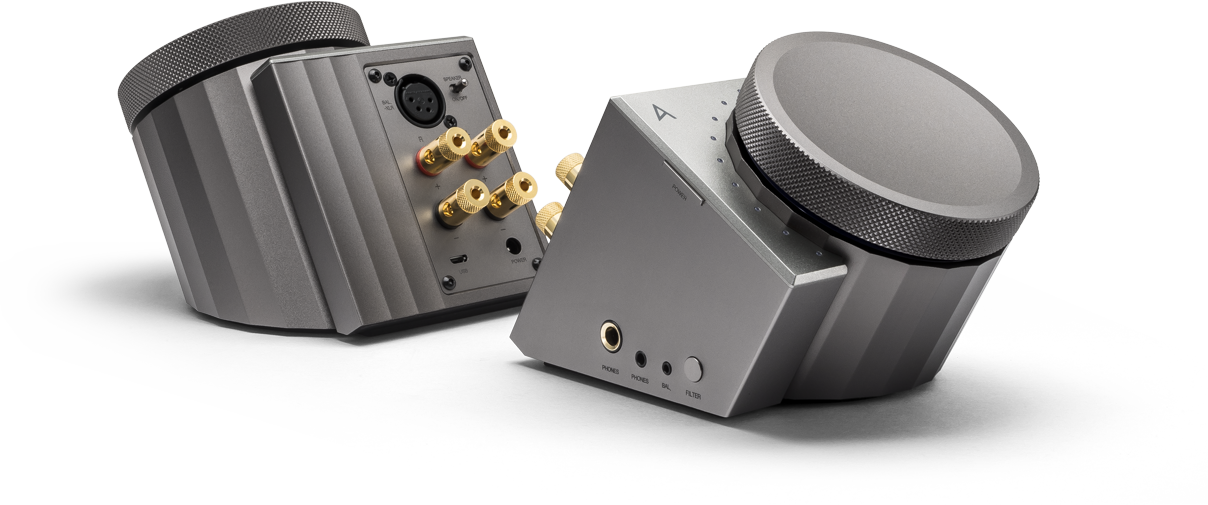 Dual High-End AK4490 DACs Built-in
PCM playback up to 32bit/384kHz, Native DSD 256 playback supported
Support for various audio output options for Hi-Fi Audiophiles
15W Audio Output per Channel for Stereo Speakers
Filters for Different Audio Preferences (Bass-boost, High-Gain)
Optimal design for both usability and sound playback
AK4490 Dual DAC

32bit 384kHz bit to bit play

Native DSD

multiple output terminals XLR / 6.3 / 3.5 / 2.5

Sound Filter
Dual High-End AK4490 DACs Built-in
The ACRO L1000 features two AK4490 DAC chips, the same proven performance DACs found in the popular and successful Astell&Kern AK380 players.
The Dual DACs deliver proven consistent and high performance digital music playback.
With the Dual DAC configuration, the ACRO L1000 delivers superb resolution and rich spatial sound.

The Dual-DAC implementation is re-designed to perform at its best efficiency with the new AMP circuit design in the L1000.
This new design allows the ACRO L1000 to deliver master-quality sound with minimal distortion.
Dual DAC'S Balanced Output
Output from other products
PCM playback up to 32bit/384kHz,
Native DSD 256 playback supported
The L1000 plays back bit-to-bit high-resolution PCM digital audio up to 32bits. A 32-bit CPU has also been added for the most accurate processing of digital audio playback, without compromising audio quality.

As a result, the ACRO L1000 can reproduce up to 32bit/384kHz PCM as originally recorded, with no down-sampling. The L1000 also supports native DSD playback up to 11.2MHz, without conversion.
* The maximum audio output would be limited based on the output capacity of your source device.
32-bit bit-to-bit Playback by L1000

32-bit Playback by Other Product

/*21-09-09 수정*/
Support for various audio output options for Hi-Fi Audiophiles
The ACRO L1000 provides multiple audio output options to fit your needs.
It can be connected to a universal 3.5mm/6.3mm jack, or to a headphone or earphone with a 2.5mm/4-pole XLR balanced jack.
Unlike other headphone amplifiers, the ACRO L1000 features speaker binding posts offering a maximum audio output of up to 15W per channel at 4 ohms.
* Please note. You must lower the volume to zero before connecting any sensitive In-Ear-Monitors or headphones to protect your hearing and your equipment.
* When connecting more than two earphones/headphones, the sound is output to the earphones/headphones of the last connected terminal.
* When connecting to the XLR balanced terminal, all earphone/headphone jacks on the side of the product should not be connected.
XLR balanced jack
speaker binding posts
2.5mm
3.5mm
6.3mm
/*21-09-09 수정*/
Easy Connection to Computers and other Digital Music Sources
The ACRO L1000 can be connected to your PC or MAC via Micro USB cable.
Using an Astell&Kern portable player as a source device will give you more powerful audio experience with your L1000.
* When connecting with a PC or a MAC, you may be required to download a USB DAC driver for your OS.
* Sound output will be available through 'Audio-Output' option in your sound settings. * An OTG USB cable is not included in the package.
* Please check the capability of Astell&Kern portable players before using it as a source device: The L1000 will be compatible with: AK380, AK320, AK300, KANN, AK70, AK70 MKⅡ, or SP1000

PC / MAC
SP1000 / AK380 / AK320 / AK300 / KANN / AK240 / AK70MKII / AK70
Filters for Different Audio Preferences
The ACRO L1000 provides three sound settings: Neutral, Bass-Boost, and High-Gain filters to suit your preferences.
The Bass-Boost filter brings you deeper bass. The High-Gain filter provides more power output.
You can switch the different sound filters by simple pressing a button of L1000. The color of the LED light changes with the mode selected.



*Default Setting
- Blue LED for Neutral and default sound,
- Green LED for Bass-Boost filter
- Red LED for High-Gain filter.

DESIGN
The design of the ACRO L1000 resembles the 'Golden Ratio' of the Parthenon of Athens. Like the Golden Ratio stays consistent and never changes, Astell&Kern has designed the L1000 to serve the never-changing value of music. Its design signifies something that should never be changed – the original sound, and provides distortion-free sound.

Therefore, the image of the historical building is the motif, and the L1000 represents a distortion-free sound. The composed geometrics of the cylinder and the square reaffirms the everlasting meaning of great music paired with modern technologies to provide the best listening experience. The entire body is made of aluminum, which maximizes sound clarity, adds aesthetics, and allows for an ergonomic volume control.
As it sits on a desk, the 30-degree angle will naturally fit your everyday use. The size of volume wheel is designed to fit for your hand, and the knurled pattern allows the perfect feel of being in control of your music. The accent of the LED rim lights around the volume wheel adds a subtle, yet comfortable music listening ambience, and the 12 dots of LED shows the status of music playback volume.