The Ultimate MQS Network Audio System, AK500 Series
AK500 Series
The AK500N is the first desktop MQS audio system from Astell&Kern that truly combines advanced digital technology with analog sound.
The AK500 Series consists of the AK500N (network player), AK500A (power amplifier), and AK500P (power supply unit).
For the AK500 Series, no detail was overlooked from planning to development to delivery of sound that is true to the original source. The Astell&Kern 500 Series gives you the freedom to select the sound you desire.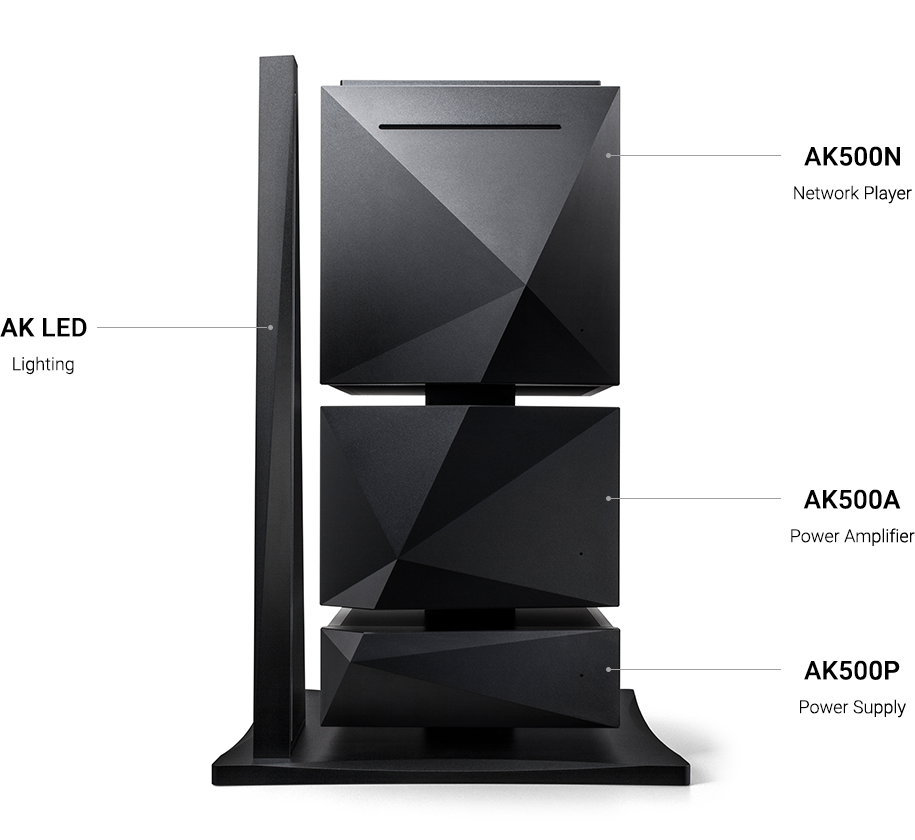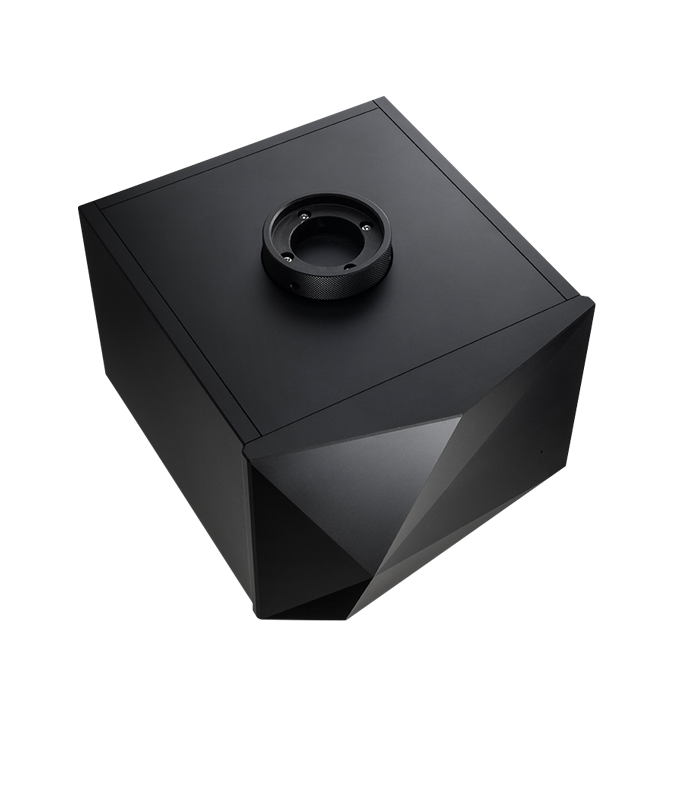 Power Amplifier AK500A
Approximately 3,000 times faster refresh rate was achieved by implementing a very high-frequency Switching-Mode Power Supply (SMPS) used in aerospace applications rather than a commonly-used linear power supply design, ensuring a full response to even the most complex waveforms. Despite its very small size, the power supply provides a full 1,000W of capacity.

In addition, a full balanced design was used to minimize noise interference, and Power Factor Correction (PFC) was used to completely eliminate surge noise. Optical protection sensors are employed for the audio amplifier unit and protection circuits, which completely eliminate physical and electrical contact for maximum sound quality.

Since capacitors typically found in amplifiers can introduce sound-coloring, a DC feedback loop design was implemented, and no capacitors were used. Furthermore, the input buffer, driver, and output stage were completely isolated from the audio amplifier unit in an independent design to eliminate cross-interference. The outstanding structure uses separate constant-voltage circuits to eradicate any deterioration in sound quality.
Perfect CD-Rippin
SSD(Max. 4TB, Raid 0)
Built-in Battery
DLNA(DMS, DMC, DMR)
Metal Body
PCM to DSD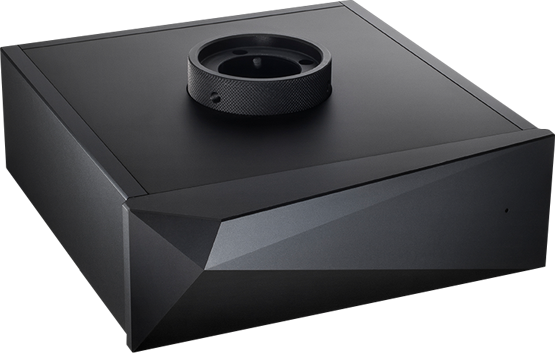 Power Supply AK500P
The exceptional speed, power, and control capabilities of the AK500AP are no match for any other comparable power amplifier.All of these features were carefully selected and implemented to ensure the most accurate interpretation and playback of complex audio data transmitted from the AK500N.
A high-speed switching-mode power supply (SMPS)
1,000W(Continuous) of power capacity.
PFC(Power Factor Correction)
The 500N gives you the freedom to select the sound.
The AK500N is the first desktop network audio product from Astell&Kern that truly combines advanced digital technology with analog sound. The AK500N is the culmination of the experience and know-how accumulated from work on the AK series including the AK240.

One-click CD-ripping and perfect noise isolation through battery-only operation.
PCM to DSD conversion faithful to the original sound and excellent compatibility with a wide range of devices. Easy DLNA-based networking and high-reliability SSD.

For the AK500N, no detail was overlooked from planning to development to delivery of sound that is true to the original source.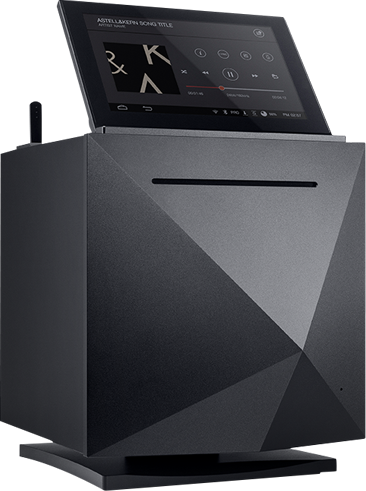 Perfect CD-Ripping
SSD(Max. 4TB, Raid 0)
Built-in Battery
DLNA(DMS, DMC, DMR)
Metal Body
PCM to DSD
Perfect
Extractor
Pure Sound
PCM to DSD
Advanced
Network
4 BAY SSD
Powerful
Connections
Fixed & Variable
Analog Out
Metal Body
Perfect Extractor
How are you enjoying your precious CD collection? Are you still listening to your music one CD at a time?
Import your CD collection into the AK500N with the one click.

By taking highly-optimized ripping engine, the AK500N provides users with flawless CD rips through enhanced jitter and error correction support.
The highest sound quality is captured with enhanced jitter correction and excellent CD track error detection and correction.

Two speeds (Normal / Fast) are available for CD-ripping, and the tracks can be saved in either WAV or FLAC.

In addition, Album art and music data are automatically imported from Gracenote's latest music DB and is the most recognized and accurate source of music DB in the world.
In addition, the touch keypad allows the user to enter the CD title, artist, genre, year of release information.
CD-Ripping Screen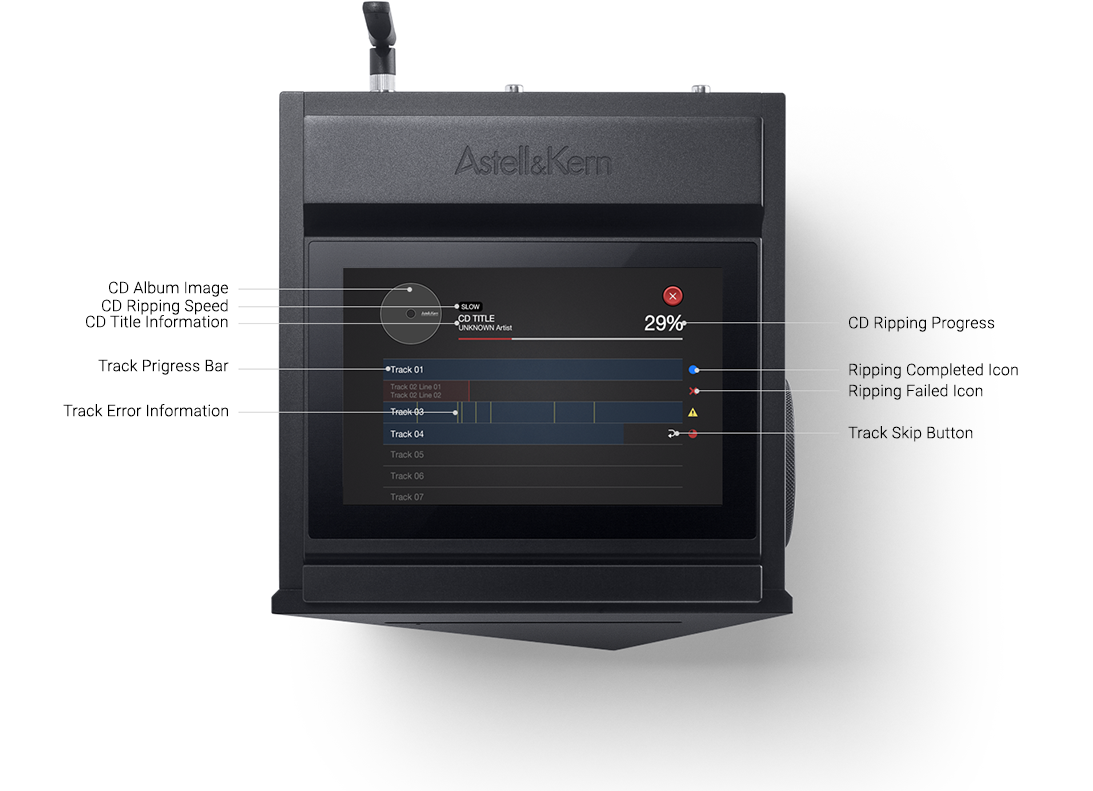 Pure Sound
A common factor in devices operating in AC power is that the AC power supply is a point of entry for unwanted external noise and exit for device noise. These are the main causes of sound quality degradation.

The AK500N does not allow even 1% of external noise.

Although the AK500N is desktop audio device, it was designed to use a built-in battery for noise isolation.
The AK500N physically blocks noise generated in the AC power supply to prevent sound degradation at all levels.
Music playback on the AK500N is achieved with battery-only operation, creating a truly Pure Sound.

The SMPS (Switched Mode Power Supply) employed in the AK500N is an outstanding device with a Level 5 efficiency rating. The noise-sensitive power ripple noise* is below 50mVp-p at full load (5A). The AK500N delivers sound quality closest to the original recording through perfect noise isolation and battery-only operation.

* Ripple Noise : Unwanted "ripples" of direct current (DC) voltage in the alternating current (AC) peaks resulting from the incomplete conversion of AC to DC.
Diagram of Noise isolation through battery-only peration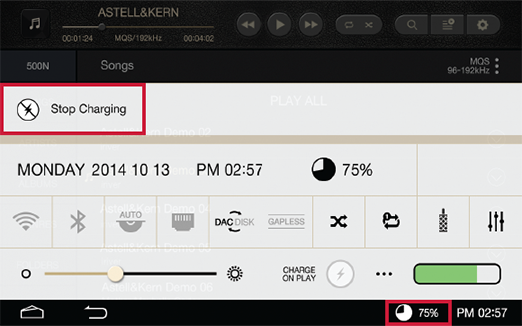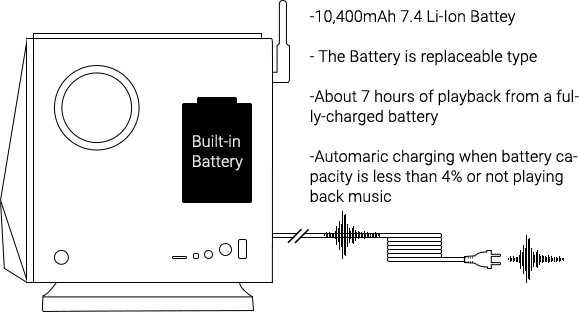 PCM to DSD
The AK500N features a dedicated DSD chipset for DSD playback and converts PCM file to DSD64 data through audio engine of Astell&Kern. The AK500N converts high-resolution 32 bit/384 kHz WAV PCM and 24 bit/352 kHz FLAC PCM file to DSD64 data without any down-sampling. In Addition, real time PCM file to DSD64 data playback available.

Go one step further to original sound with this feature by converting, without any distortion, the unique audio information contained within the sound source.
Comparison of noise level PCM and DSD
Unlike PCM, the noise curve changes gradually without abrupt spikes in noise levels toward higher frequencies with DSD.This means that DSD is less vulnerable to noise intrusion in the higher frequencies compacolor-a to PCM.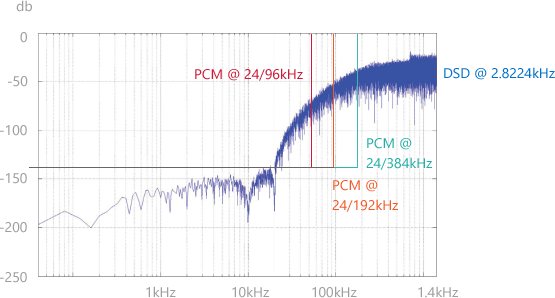 Comparison of Sample rate PCM and DSD
PCM (Pulse-Code Modulation), the common digital recording method for analog signals, divides the y-axis of a sine wave into 65,000 (16-bit) to 16.7 million (24-bit) units of resolution and the x-axis into 44,000 (44.1 kHz) to 384,000 (384 kHz) units for the sample rate before converting into a digital signal. Instead, DSD (Direct-Stream Digital) only divides the y-axis of a sine wave into a single-bit (0 and 1) resolution while dividing the x-axis into 2.8 million (2.8 MHz) to 5.6 million (5.6 MHz) units. DSD's oversampled signal color-auces noise and distortion into mere single bits of data for audio reproduction that's closest to the original sound.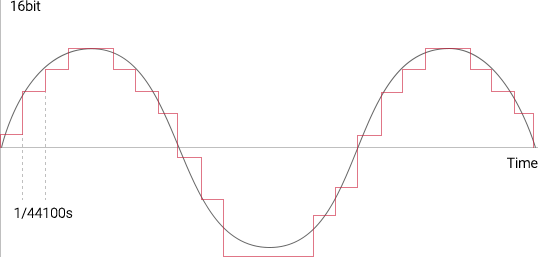 PCM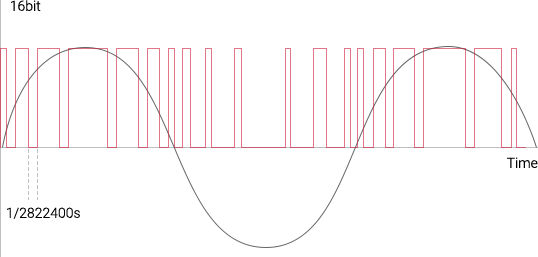 DSD
4 BAY SSD
The AK500N features multi-level cell (MLC) SSD rather than a triple-level cell (TLC) SSD for increased durability and reliability. The vibration noise generated by conventional HDDs has been eliminated completely. Save and load large amounts of data even faster than traditional HDDs through the superior speed and stability of SSDs.

1TB/2TB/4TB SSD options are offecolor-a to satisfy each user's needs.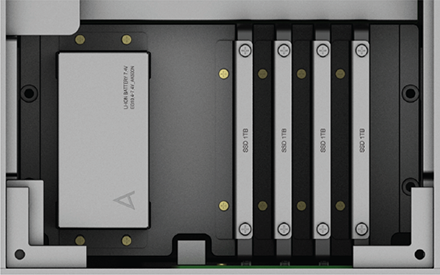 Comparison of SSD Cell types
Type
Advantage
Disadvantage
SLC(Single Level Cell)

Elecllent Durability

Low durability

TLC(Triple Level Cell)

Low Cost

Low Capacity

MLC(Multi Level Cell)

Good Durability / Large Capacity Applicable

-
Comparison of SSD and HDD
Type
Advantage
Disadvantage
SSD (Solid State Drive)

5 times faster than HDD / Durable / Silent

Higher price comparing to HDD

HDD (Hard Disk Drive)

Cheaper than SSD

Slow / Vulnerable / Severe Noise
Physically independent drives can be combined into single drive through RAID 0 which configuration supports up to 4TB.
Powerful Connections
The AK500N supports a wide range of inputs and outputs.
Connect various high-end products through the AK500N's digital inputs and outputs (AES/EBU, Coaxial, Optical, BNC).

In addition, the analog output supports both Fixed and Variable signals for a direct connection to a powecolor-a amplifier.
A simple but high-level premium system configuration is possible through the AK500N's flexible digital and analog connections.
For user convenience, the inputs and outputs are expressed in easy-to-read graphics on the touch-screen menu.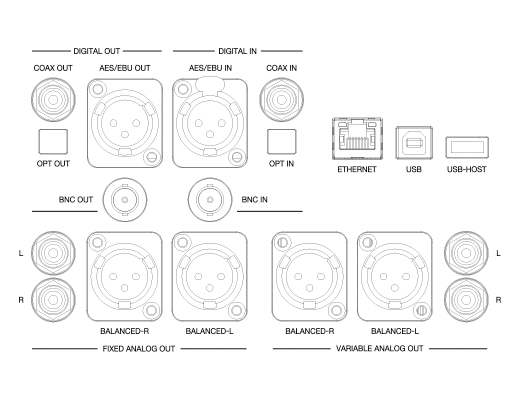 Analog & Digital audio I/O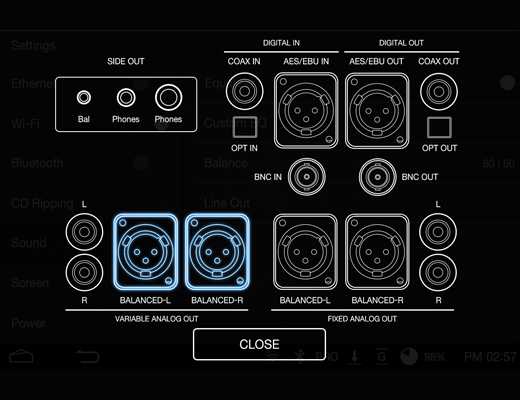 Connections Select Screen

Advanced Network
The network capability of the AK500N is another attractive feature that cannot be overlooked. The AK500N connects to PCs as well as NAS servers through its DLNA implementation using LAN, Wi-Fi and is easily controlled with an app on smartphones and tablets. Music on your PC or NAS can be freely streamed and played back without connection a cable and it can output the connecting a cable and it can output the sound in conjunction with the network speaker. The AK500N can be easily kept up-to-date with OTA (Over-the-Air) firmware updates.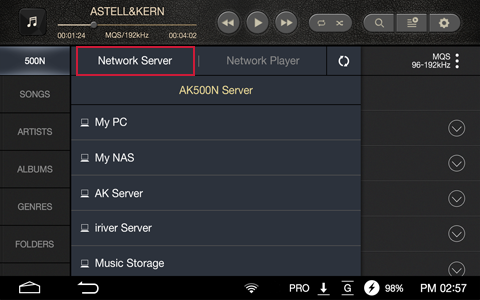 Network Server by DLNA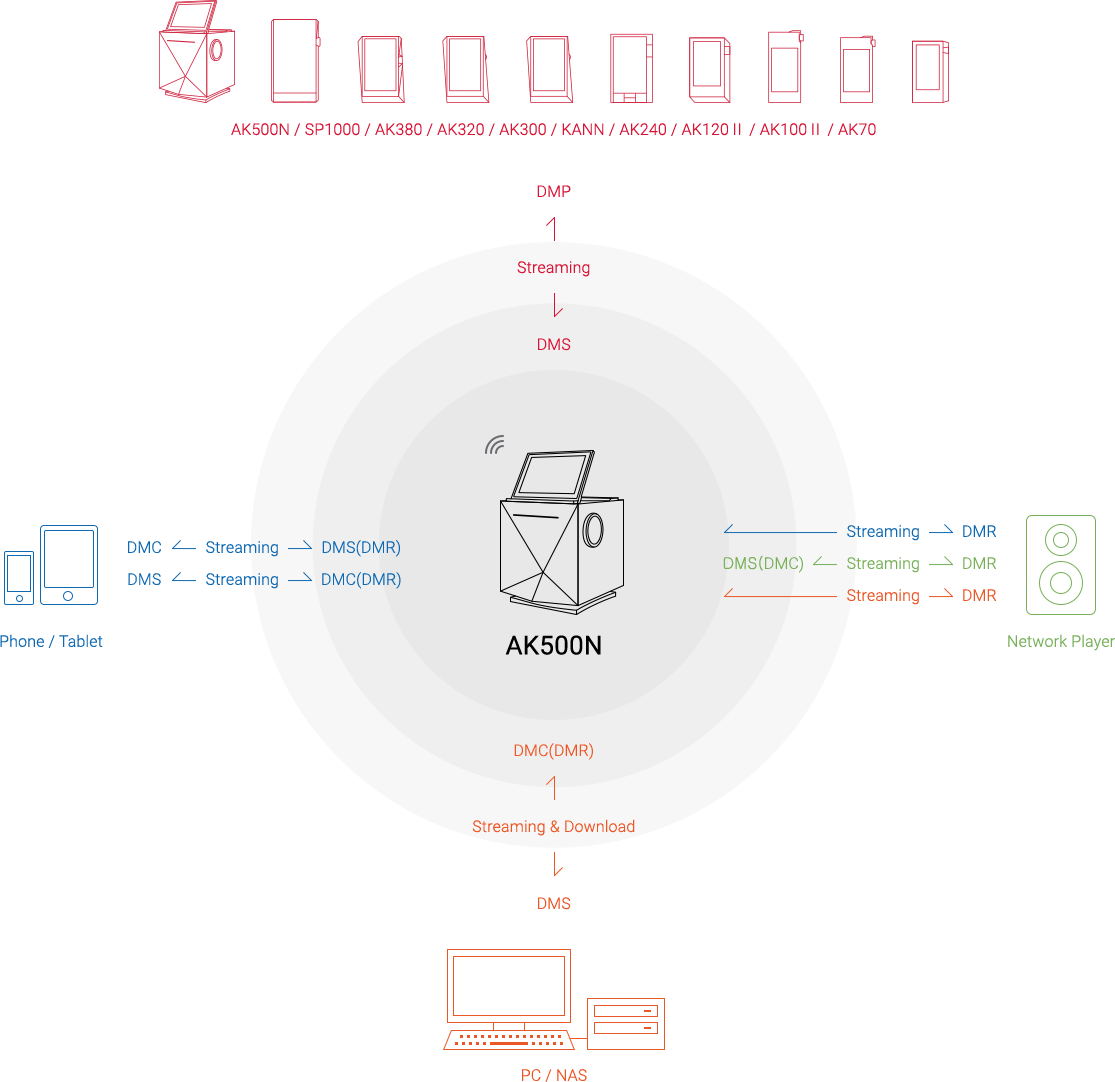 DMP (Digital Media Player)

Finds a list of content on a media server for selection and playback

DMS (Digital Media Server = Network Server)

FActually stores the media content to be shacolor-a. When connected to a network, the DMS transmits /distributes the media content for other devices to stream or download.

DMC (Digital Media Controller)

Finds a list of content on a media server and establishes a connection to a playback-capable device (renderer). By default, a DMC establishes a connection between a media server and media renderer and controls content playback-related operations.

DMR (Digital Media Renderer = Network Player)

Connects to a media server via media controller for content playback.
Internal Structure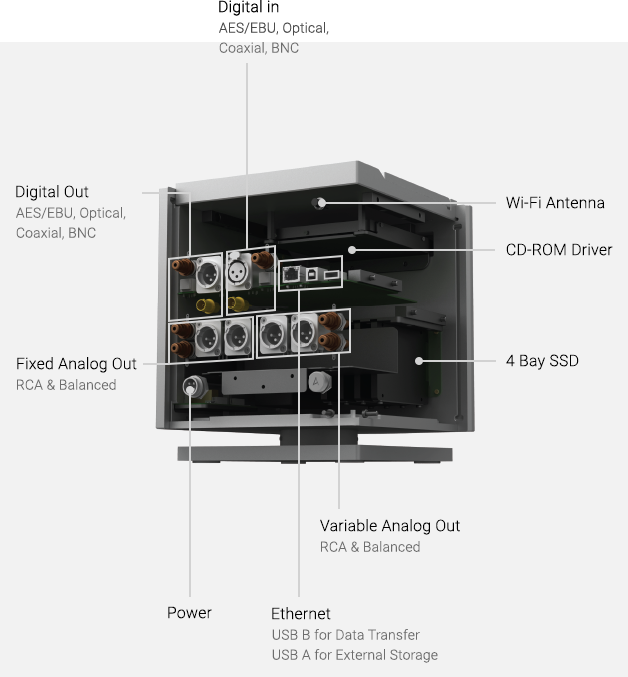 The AK Connect and AK Connect HD apps Download
The AK Connect and AK Connect HD apps are available for download from the Google Play Store and the Apple App Store.
Google Play Store
Apple App Store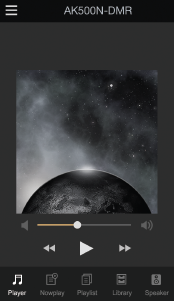 [Phone] AK Connect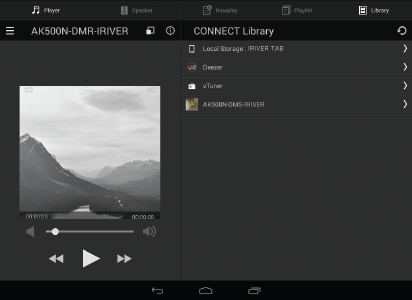 [Tablet] AK Connect HD
DESIGN
'Light and Shadow'
Astell&Kern represents core sound without any distortion.

A close look at the AK500 Series reveals the intricacies of pitch through the acute angles found on its surface.
The changes in the surfaces expressed in the AK500 Series represent the highs, mids, and lows in sound.
The purpose of the AK500 Series is not to improve the sound but deliver the original sound as it was meant to be heard.