Hi-Fi your Smartphone, AK10
AK10, Hi-Fi your Smartphone
Portable DAC for Smartphone

The AK10 serves as a portable DAC for your iPhone 5, 5th Gen iPod Touch, and the Samsung Galaxy Series of Smartphones.

Enjoy wider soundstage with more clarity from AK10 using its built-in Astell&Kern Analog amp. You can listen better sound of your digital music files stored on your smart devices, including iPhone 5, 5th Gen iPod Touch, Samsung Galaxy S3 & S4, or the Samsung Note2 & Note3. (Based on iPhone playback of 16bit / 44.1kHz M4A audio file format.)
*Cable adapters for the Samsung Galaxy S3, S4, Note2, and Note3 is to be sold separately. (Supported device list will be updated continuously.)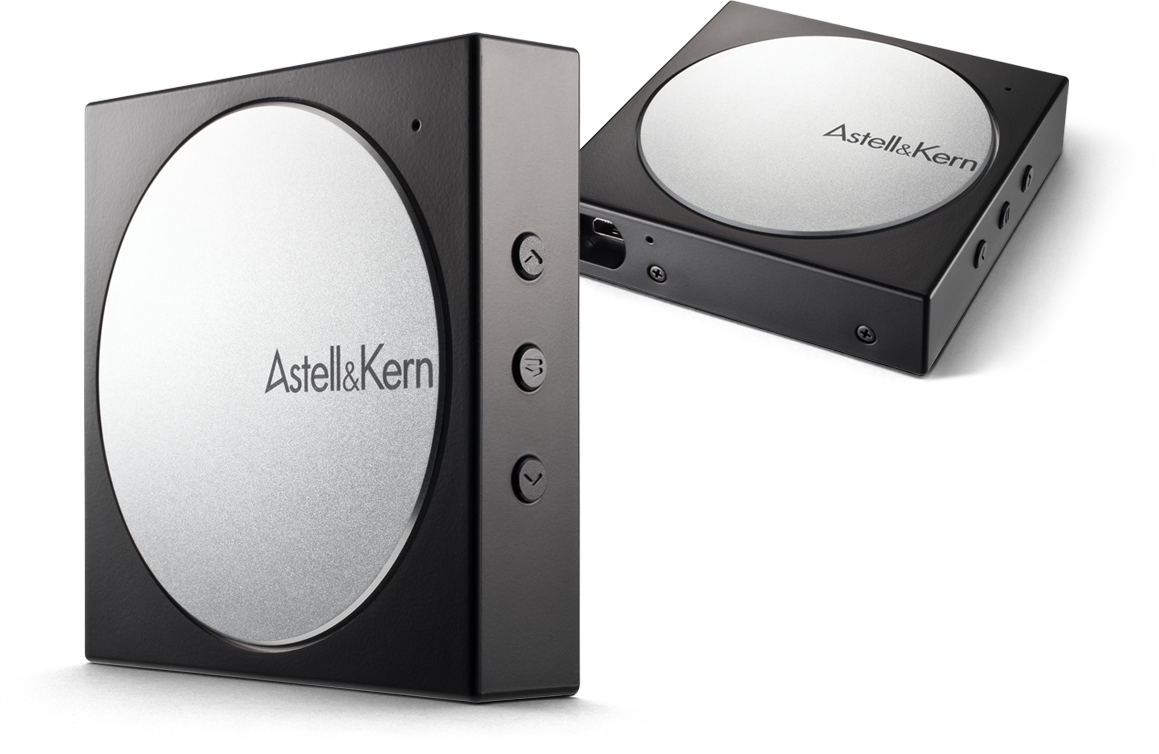 Meets the Standards of Hi-Fi Audio
THD+N (1kHz 0dB, No load)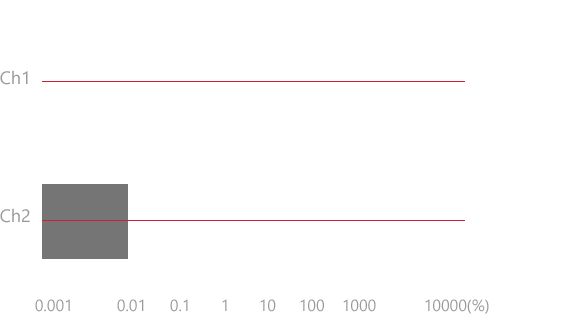 THD + Noise (Distortion) over the THD + Noise signal rate, less distortion is heard. The AK10 achieves a 0.008% distortion signal rate.
Signal to Noise Ratio (1kHz 0dB, No load)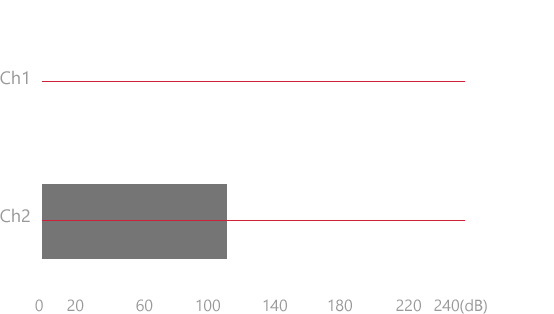 SNR (Signal to Noise Ratio) As the signal-to-noise ratio increases, the clearer the sound becomes. AK10 signal-to-noise specification is 110dB.
Crosstalk (1kHz 0dB, No load)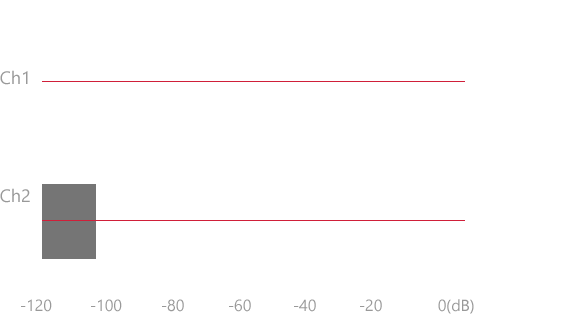 CROSSTALK The higher the number in the crosstalk specification, the higher the isolation in the Left/Right channels develops. The AK10 has a crosstalk specification of -106dB.
Frequency Response (1kHz 0dB, No load)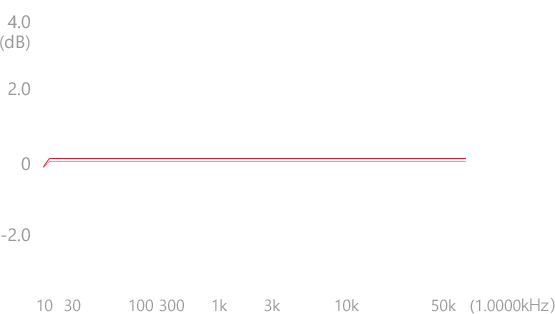 Frequency Response The frequency response specification of +0.02 to -0.02 in the AK10 provides a clear sound from Bass to Treble.
Equipped with the Wolfson 8740 DAC
One of the world's highest performing stereo DAC
Users familiar with LINN, ARCAM, and other high-end audio equipment (AV Receivers) actually have been listening to the Wolfson WM8740 high-performance Stereo DAC at home. With the Wolfson WM8740 DAC, the AK10 achieves highest level of signal-to-noise ratio (SNR) and the lowest level of the total harmonic distortion (THD) performance.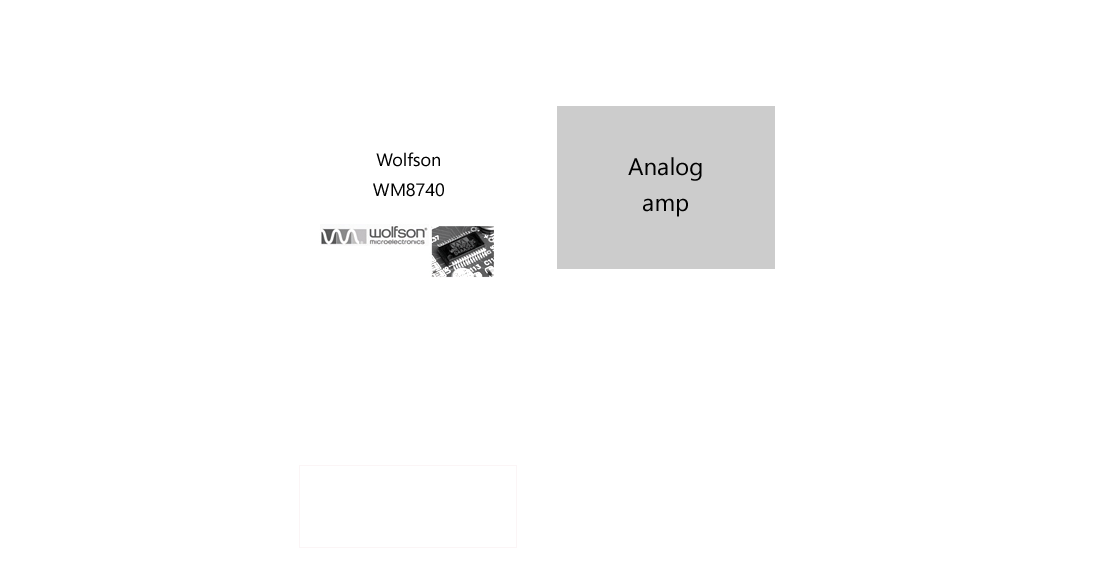 24-bit/96kHz, SNR, THD+N → Hi-Fi Audio Spec
USB DAC
The USB DAC feature in the AK10 provides superior sound for your digital music library on your computer.
By taking advantage of one of the best DAC chipsets in the world, the Wolfson WM8740 DAC brings richer sound with wider soundstage for your digital audio library.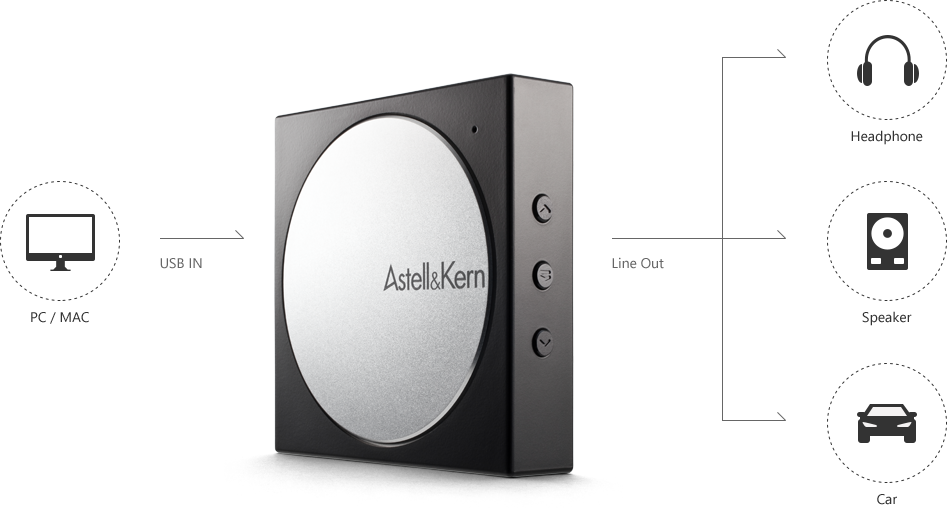 Using the AK10 as an USB DAC
Direct Control over Connected Devices
Dedicated buttons on AK10 (play, next/previous track) can directly control audio playback of the connected device.
- Connected device playback control is compatible with iOS devices and Mac OS computers. Compatibility with Windows computers and Android operating systems may vary by the program and Windows/Android device used for playback.
The Analog Style Volume Wheel Design inspired by Turntables
The compact size of 2.2 inches and weight of 1.8 oz makes the AK10 a total portable solution.

In addition, the design of the volume wheel design was inspired by vinyl turntables and reflects a clean & precise analog design that can also be found on other Astell&Kern devices.
- iPhone 5: 135 steps of volume control / Mac computers: 230 steps of volume control / Windows computers: synchronized with the system's master volume control and up to 230 steps of volume control / Android devices: volume adjustment is controlled by the AK10.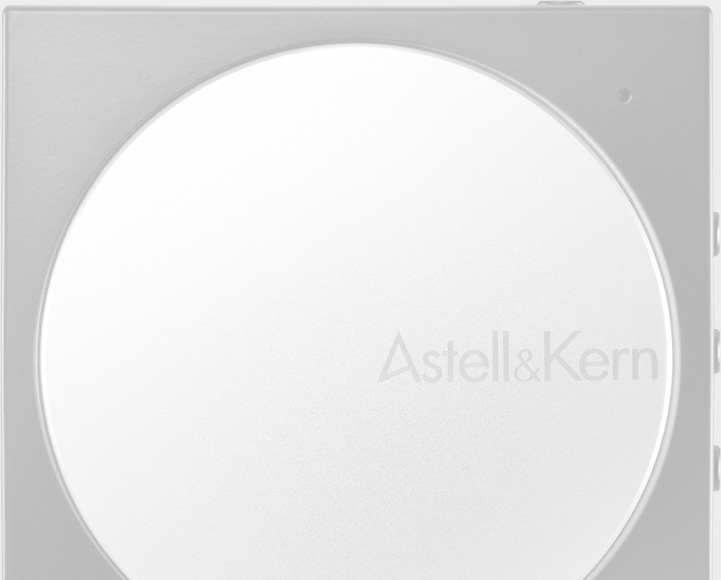 Fashion It Item
The leather case can be carried in a variety of ways with the straps or lanyard.