Crystal Cable Cantabile PEF29
A new generation in-ear cable
Crystal Cable has developed a new generation in-ear cable for her co-branding with Astell&Kern. Its breathtaking technology, design and musicality helps to create a bridge between portable high end and high end home audio, two very much connected worlds, helping them to closely work together on the ultimate goal: bring live music to the listener.

Cables are even more important in personal audio than in home systems, as there is no room acoustics or other external factors influencing the sound quality, just the headphone/earphone, cables and the source.



Crystal Cable Cantabile
It stands for freely melodious music, honest and lively. Crystal Cable Cantabile for Astell&Kern is the new high end standard in portable cable products.





The new Crystal Cable Cantabile uses 18 tiny individual silver-gold conductors, taking care of 100% pure silver-gold signal path. It's biocompatible insulation makes sure the cable is absolutely comfortable in use.

Double twisted for improved channel separation, unique twisting method to eliminate the risk of untwisting. Features improved connectors and beautiful new packaging.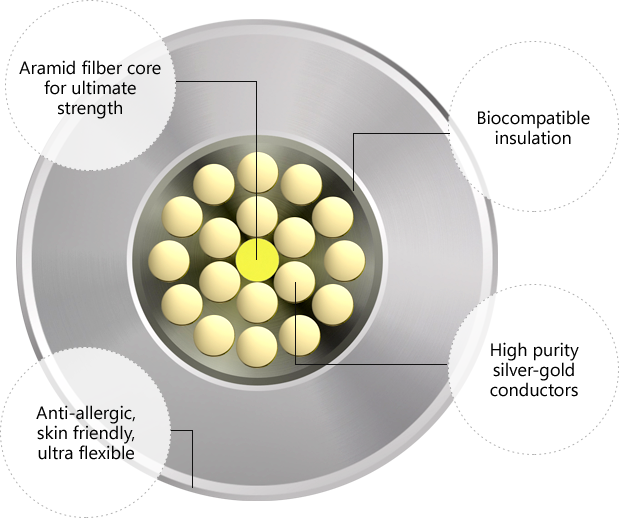 Each Crystal Cable Cantabile product is precision cut, hand manufactured and individually serial numbered to guarantee consistent performance. The complex construction of the Crystal Cable Cantabile conductors demands precise termination. Each cable is precision stripped and trimmed before being skillfully hand-terminated by our experienced technicians, while Astell&Kern's close control over product distribution ensures customers receive consistent, verifiable performance – every time.



Specification
General Specifications

Model

Astell&Kern Portable cable PEF29 (Custom IEM 2-Pin / 2.5mm balanced)


Wire Specifications

Crystal Cable Cantabile


Terminal Specifications

Astell&Kern 2.5mm 4-pole balanced original plug


Cable Length

1.2m

2.5mm Compatible Models

SP1000, KANN, AK380, AK320, AK240, AK120Ⅱ, AK100Ⅱ, AK70


Etc.

- Audio was NOT muted during the measurement.
- The image/specification may be changed without notice to improve product performance and quality.

Price