More Power And Performance, SP1000 AMP
Made Only for the SP1000
An Amplifier module designed specifically for the SP1000 to drive full-sized, high-impedance headphones.
The SP1000 AMP offers High Gain output of 10Vrms for Balanced output and 6.2Vrms for Unbalanced output.
The modular design fits perfectly with your SP1000.
The SP1000 AMP adds more power and performance for your SP1000.
HIGH GAIN
The SP1000 AMP offers 10Vrms for Balanced output on the High-Gain setting.
High Gain: Unbalance 6.2 Vrms / Balance 10 Vrms (Condition No Load)
Low Gain: Unbalance 2.9 Vrms / Balance 6.2 Vrms (Condition No Load)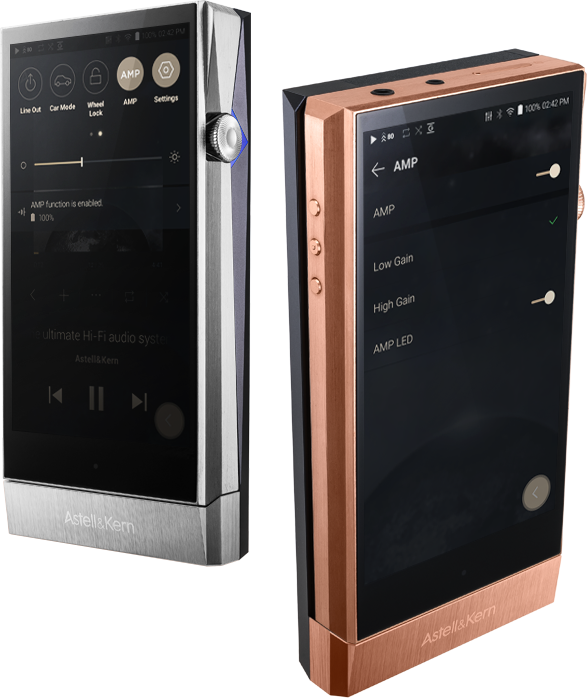 The AMP has been designed to protect your hearing.
It adjusts the output every time the AMP is turned on and/or your headphone is disconnected from the AMP.
The AMP can be turned on and off easily from the quick settings menu. Gain can be adjusted in the full settings menu.
* When the SP1000 AMP is connected to the SP1000, Optical out, USB-DAC, USB-Audio, Line-Out and CD-Ripping functions will not be available.

* Turning on AMP : Yes
* Disconnecting IEM/Headphone : Yes
* GAIN Setting Change : Yes

Improved output performance
The SP1000 AMP offers higher power output and better efficiency*, using updated circuitry and audio volume control. ( * compared to the AK380 AMP module)
Low Gain

Unbalanced 2.9Vrms / Balanced 6.2Vrms (Condition No Load)

Unbalanced 2.1Vrms / Balanced 2.1Vrms (Condition No Load)

High Gain

Unbalanced 6.2Vrms / Balanced 10Vrms (Condition No Load)

Unbalanced 4.1Vrms / Balanced 8.1Vrms (Condition No Load)
AUDIO BLOCK
3,700 mAh Large-capacity Battery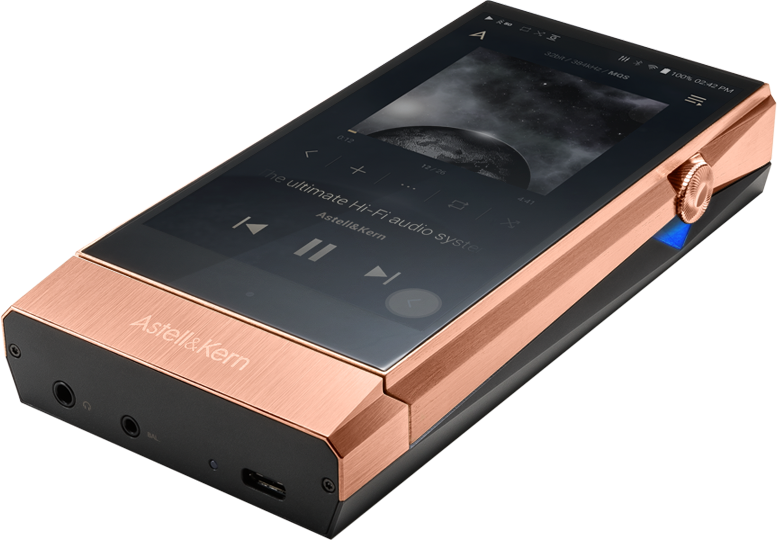 The SP1000 AMP is equipped with a 3,700mAh rechargeable battery to provide 9 hours of uninterrupted music playback.

– SP1000 AMP supports 9 hours of continuous unbalanced-output playback.
Simplicity of integral AMP
The SP1000 AMP offers greater portability when paired with the SP1000 player with its optimal design and fit.
Charging

Charges both SP1000 + SP1000 AMP at the same time

Player and amplifier have to be charged separately

Convenience Connection

Uni-Body No Additional Interconnect Cables Needed
Improved Locking Mechanism Separate cables needed
Rubber bands, Velcro or other form of bundling required

Volume Control

Single control of volume using the SP1000 volume knob

Separate volume controls

Perfect Unity
The black backing of the AMP represents shadows of the natural materials of the SP1000 and as the wavelengths of the sound splash in every direction, the reflected shadows express a divided silhouette.

The soft blue light surrounds the SP1000 volume wheel and accentuates the beautifully crafted crown pattern as the light shines upon it.

The precise angle of the wheel and the AMP surface, when combined together, has a functional space that does not interfere with the operation of the wheel and conveys the AMP status through the blue and red colors.

The SP1000 player locks to the amp, providing a simple and secure connection, giving you the feel of a single, united device.