USB-C DUAL DAC CABLE, PEE51
SMALL, BUT MIGHTY

The Astell&Kern USB-C DUAL DAC CABLE has been designed as an extension of existing Astell&Kern DAP lines.

Smartphone manufacturers are removing headphone jacks from their products. "Without a headphone jack, how do you listen to music on your smartphone with the headphones and earphones you currently own?"
"As streaming services begin to support high-quality, high-resolution audio, are wireless earphones and headphones able to provide the full audio playback experience?"
"How can you enjoy high-quality music playback or games with dynamic and realistic sound on your computer without an expensive high-end sound card?"

Our development team set out to create a product that would answer these questions.
Full Metal Housing Design
Dual-DAC HiFi Audio Chipset
Silver-Plated Copper Shielded Cable
Small Size, but Powerful Output
CS43198 Dual DAC

32bit 384kHz bit to bit play

Native DSD

On/Off LED Indicator

Full Metal Body

Shielded silver Plated Copper Cable

Powerful Output Level

ROON TESTED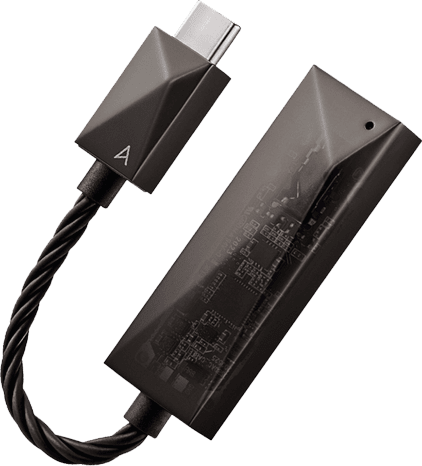 Dedicated Dual DAC with Hi-Fi, Ultra High Resolution Sound
The Astell&Kern USB-C DUAL DAC Cable features two Cirrus Logic CS43198 MasterHIFI™ DACs which supports native DSD256 and 32bit/384kHz playback. With the USB-C DUAL DAC Cable, you can experience premium, high-resolution audio from your computer or mobile device.
Small But Powerful Output,
Astell&Kern's Signature Sound and Design
Astell&Kern's expertise in audio circuit design has allowed us to create a complex and highly integrated circuit chip on a small, six-layer PCB the size of 14 x 41 mm.

In order to create a small device, micro resistors and tantalum capacitors, exclusively created for Astell&Kern were used. These same capacitors, which are used by AK DAPs, optimize the audio circuit to suppress power fluctuations, creating a USB DAC that provides stable operation and superb audio performance.



The dual CS43198 DACs are paired with an independent analog amplifier, designed to provide true audio playback so you can feel the live, warm and clear sound as intended, without distortion. This is possible based on years of Astell&Kern's expertise in AMP design.

Although it is a small and simple cable type external DAC, it is able to sufficiently drive high impedance headphones with a 2Vrms (Condition No Load) output level.
Plug & Play with Most Devices
The Astell&Kern USB-C DUAL DAC Cable features a USB-C connection, which can be found on the latest Android-based smartphones and Windows and Mac computers.

Since the USB-C DUAL DAC Cable draws power from the playback device it is connected to, there is no need for a separate charger. The USB-C DUAL DAC Cable supports any headphone or earphone with a 3.5mm connector.

The USB-C DUAL DAC Cable brings the famous signature Astell&Kern sound to your devices for a reasonable price.
* Both earphones and headphones that support 3-pole and 4-pole 3.5mm plugs can be used, but the in-line controller and microphone functions built into 4-pole earphones and headphones are not supported.

Noise-Shielded Customized Cable
We developed a custom-made, 4-core cable to express the sound you want to reveal through the cable and enhance durability against disconnection.
The cable is reinforced to withstand up to 200N of tensile force using aramid fiber.

This cable is made by wrapping silver-plated copper wire and the copper wire in a spiral form around a center core made of Technora Aramid fiber to block external noise.

A separate shielding treatment is applied to the cable to block distortion and noise of digital and analog signals from the playback device.

The silver-plated copper wire used in the USB-C DUAL DAC Cable is thicker than typical silver-plated copper wire (0.3μm, usually 0.1~0.15µm).
The addition of copper wire provides clear and rich spatial sound.
Non Migration TPE
Spiral Shielding
_Copper
Technora Aramid fiber
0.5mm copper
0.3μm silver-plating
Precautions When Using the Product
The Astell&Kern USB-C DUAL DAC Cable is compatible with most Android-based smartphones and tablet PCs, computers running Windows 10 and macOS.
iOS-based devices, such as iPhones and iPads are currently not supported.
Some Android devices may require adjusting certain settings to function correctly.

to hardware, software, and system limitations of certain supported devices, not all functions may work correctly or be available for use.

When connected to a Windows PC, the device is automatically recognized and the correct driver will be installed. A separate USB DAC Driver installation may be required for high-quality sound playback, and can be downloaded from the Support-Download section of the Astell&Kern global website.

To play DSD and high-quality PCM sound sources on a smartphone, a separate free/paid app that supports high-resolution audio playback must be installed. (When using the smartphone's own built-in player, audio may be down-sampled)

When connecting to a playback device (Android-based smartphone, tablet PC, and PC), be sure to check the volume level before connecting earphones and headphones. Some devices may automatically set the output level to maximum volume when the USB-C DUAL DAC Cable is connected. Listening to headphones or earphones at maximum volume may damage your hearing. Please verify the volume level before each use.

When connecting the USB-C DUAL DAC Cable to an Astell&Kern player and using the cable as an external DAC, the output volume will be fixed at the maximum volume setting. It is not possible to adjust the volume through the Astell&Kern player. Listening at maximum or a high volume setting may cause serious damage to your hearing. Astell&Kern, its affiliates and agencies, cannot be held liable for any damage or injuries from negligent or inappropriate use. We do not recommend using the USB-C DUAL DAC Cable with Astell&Kern players.

Firmware updates may be released periodically for stability improvements. For more information on firmware updates and to check if a firmware update is available, please visit the Support-Download section of the Astell&Kern global website.
Roon Tested devices
Roon plays to thousands of USB, Airplay, and Chromecast devices,
but Roon Tested devices are profiled by the Roon team to ensure simple setup and effortless daily use.

If you own a Roon Tested device or are thinking about buying one,
you can have the confidence that you will enjoy the best possible experience of it.

Discover more
Design Concept
The USB-C DUAL DAC Cable uses the design concept of "light and shadow" that is used in all Astell&Kern products. The USB-C DUAL DAC Cable design is based on a single centerline that boldly crosses from right to left. The faces were arranged by adjusting the angle ratio so that the sharp faces of the upper four faces meet at one point. It is designed so that each side is reflected according to the movement of light.

To make the grip comfortable for one-handed use, the surface was created to be like a pebble that has been smoothly polished by the natural weathering effect of stone, rather than featuring the sharper angles typically found in existing AK products. This product design provides a nice, smooth feeling when holding the cable in your hand.

The weight of the metal material used reflects the same durability and solid feel compared to other Astell&Kern devices.